1# Seller I AM Throw Blanket
---
Posted On 07/15/2015
The I AM blanket is Cindy's Throws #1 Seller, throughout the bible God has been called by many names. This throw highlights the different names of God and their meaning. I AM throws are 100% cotton, made in the USA. Wrapping yourself in the "I AM" blanket, as a gift to a friend, hanging it on a wall, draping it on the back of the sofa, your bed, or even on the seat of your car are wonderful ways to use the "I Am" throw as a daily reminder of who the Great "I AM" is. Make it personal by having one's name embroidered on the throw in the lower left corner in the space above the words: Jehovah - Tsidkenu.
"I AM" throw click on link: #1 Seller The I AM Throw Blanket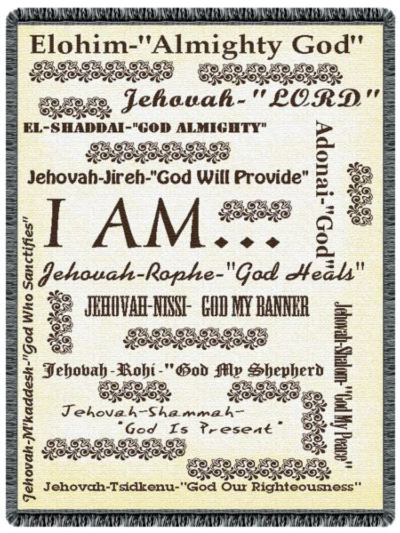 Keywords:
Product News
,... [
+
]
Related Blog Entries
Recent Blog Entries
NEW Coming Soon Sally's Garden Throws » - New Coming Soon! October 4th, 2015 Cindy's Throws is honored to Introduce artist Sally Ayers and her beautiful line "Sally's Garden Throws" exclusively at Cindy's Throws. Sally's Garden Throws are the benefit of Sa ...
«Nerium AD Night Cream and Business - My feet are a Dancin regarding this AMAZING Product called NERIUM. A powerful, clinically proven formula that reduces the appearance of fine lines, wrinkles, discoloration, uneven texture, acne and enlarged pores. Many of my friends and family member ...