Cindy's Throws Blog
---
NEW "Word Hugs" tapestry throws presented in 18 different colors. Everyone loves having their own blankie. We all need hugs and words of affirmation. Especially Children. These beautiful comfort blankets are a wonderful way to show how much you appreciate a loved one. Each inspirational coverlet is designed with words of encouragement. A covering of a multitude of positive, comforting, loving words. What a unique gift for someone who is a blessing or going through a difficult time. Give a gift of love that reminds them how wonderful they are! Buy one for each child or grandchild. Throw comes in 18 different colors! Encouraging words builds confidence. A perfect sympathy or bereavement gift. Word Hugs throw blankets are 100% cotton, made in the USA. Every blanket is machine washable and tumble dry.
Posted On 10/22/2019
---
Dear Customers,
Due to the high cost of shipping Cindy's Throws has decided to no longer offer the service of personalization / embroidery. May we suggest that you shop for an embroidery business in your area on the web or your local yellow pages to do the personalization for you. You would be surprised how many small home businesses or shops offer embroidery. We apologize for any inconvenience this may have caused. We truly appreciate your business and the opportunity to be of service. We will continue to provide the finest selection of high quality 100% cotton throws made in the USA. Cindy's Throws works with 8 of the top weavers in the United states. Here at Cindy's Throws we care and value you as a customer.
Thank You & Blessings ~Cindy~
Posted On 05/20/2017
---
New Coming Soon! October 4th, 2015 Cindy's Throws is honored to Introduce artist Sally Ayers and her beautiful line "Sally's Garden Throws" exclusively at Cindy's Throws. Sally's Garden Throws are the benefit of Sally Ayers' watercolor paintings. Sally is inspired by the bright colors and activity of the garden. She and her husband, Jerry, have their lovely gardens at their central Ohio home.Images of her paintings are now woven into comfortable versatile pieces of usable art for your enjoyment. Bring beauty to a room by using a Sally's Garden throw as a wall tapestry. Afghans are 100% cotton made in the USA. Tapestries are machine washable & tumble dry.
NEW Butterfly in Flight Tapestry Throw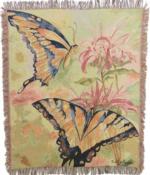 Posted On 09/19/2015
---
The I AM blanket is Cindy's Throws #1 Seller, throughout the bible God has been called by many names. This throw highlights the different names of God and their meaning. I AM throws are 100% cotton, made in the USA. Wrapping yourself in the "I AM" blanket, as a gift to a friend, hanging it on a wall, draping it on the back of the sofa, your bed, or even on the seat of your car are wonderful ways to use the "I Am" throw as a daily reminder of who the Great "I AM" is. Make it personal by having one's name embroidered on the throw in the lower left corner in the space above the words: Jehovah - Tsidkenu.
"I Am" throw click on link: #1 Seller The I AM Throw Blanket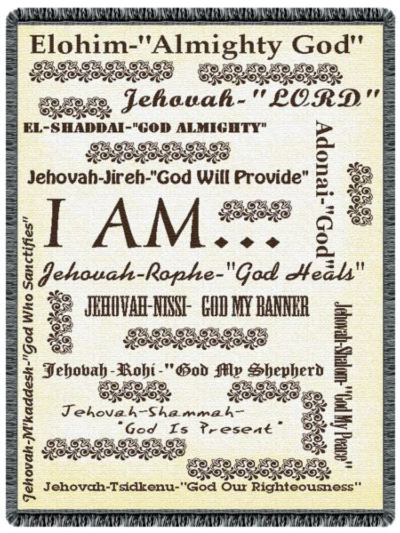 Posted On 07/15/2015
---

My feet are a Dancin regarding this AMAZING Product called NERIUM. A powerful, clinically proven formula that reduces the appearance of fine lines, wrinkles, discoloration, uneven texture, acne and enlarged pores. Many of my friends and family members are using Nerium with AMAZING results. NERIUM is an AMAZING business, connecting with old friends and making new ones, not having to carry inventory is wonderful. You don't have to sell Nerium because it sells itself. The most AMAZING part is seeing people feel good about their appearance and watching their confidence grow. Real People with Real Results. Let me know if you want to try some of this AMAZING night cream! Blessings ~Cindy~ www.markandcindy.nerium.com
Posted On 10/16/2014
---
With over 3,000 designs, Cindy's Throws has you covered for every special occasion. Cindy proudly supports Made in the USA, 100% cotton, throws, throw blankets, tapestries and accessories. Cindy's Throws is your one-stop-holiday shop, as we have something new and unique for everyone. Save Time. Keep it Simple. We got you covered. Here's a Thumbs Up for Cindy's Throws

Posted On 10/09/2014
---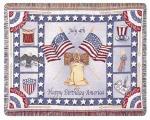 Happy Independence Day! God Bless America, In the Land of Freedom and In God We Trust. Cindy proudly supports 'Made in the USA' Throws that are 100% cotton machine washable, tumble dry.
Posted On 07/03/2014
---
SUMMER is here and you might be thinking of dressing up your patio furniture with some decorative pillows or needing a couple for the boat. CLIMAWEAVE is a new collection of indoor / outdoor pillows constructed to withstand the elements of time 18"X18". Cindy's Throws carries a wonderful selection of designs. Be sure and check them out, just click on CLIMAWEAVE Pillows under categories.
Posted On 06/20/2014
---
Looking for the perfect gift to give to your child's teacher at the end of the school year. Cindy's Throws has you covered. "A Teacher's Throw" make it special by having the teacher and the student's name embroidered on it. Give a gift that lasts a life time. 100% cotton made in the USA, machine washable & tumble dry. There's a few teacher ~ school designs to choose from. Be sure and take a look, you'll be glad you did!
Posted On 05/17/2014
---
Mother's Day is on Sunday, May 11. Due to heavy shipping volume the day before Mother's Day, UPS is making an operational adjustment for Saturday, May 10. On that day, we will relax the UPS Next Day Air delivery commitment by 90 minutes. For areas with a standard commit time of 12:00 p.m., deliveries will be made by 1:30 p.m. For areas with a standard commit time of 1:30 p.m., deliveries will be made by 3:00 p.m. The commitment time for UPS Next Day Air Early A.M. deliveries on that Saturday will remain unchanged.
Posted On 05/01/2014
---
This year, Mother's Day falls on Sunday, May 11th. Plan ahead to ensure your gift gets to Mom on time. Your mother, stepmother, grandmother, or sister, a close friend, godmother, neighbor, or special maternal figure. Whether they are first-time or long-time mothers, or just mom-like, show them how special they are with a special gift from Cindy's Throws. No matter where your gifts are headed, timing for Mother's Day shipping is everything. Cotton throw blankets are 100% cotton, made in the USA.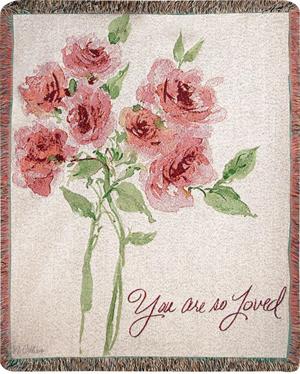 Posted On 05/01/2014
---
Shop early for the 2014 Graduate in your family or circle of friends! Congratulate the graduate with a unique personalized gift by having their name and date embroidered on a 100% cotton throw made in the USA. A graduation gift for the high school or college graduate to give on graduation day! May all their hopes and dreams come true and future be filled with happiness.
Posted On 04/22/2014
---
Year after year, we try to come up with the most unique gifts ideas for our moms: something she'll make use of, something she'll cherish. Typical gifts like flowers or jewelry are always wonderful for Mother's Day, but this year give a gift of warmth, something she can wrap herself in Love with a personalized throw. We've got Mother's Day covered, May 11th, for the Special Mom in your life.
Posted On 04/18/2014
---
Shop savings at Cindy's Throws you're on stop shop. Cindy's Throws is located in Thompson Falls, Montana and here in Montana there is no sales tax. When ordering multiple throws, you will save in shipping. Unfortunately we can not offering free shipping or compete with Amazon and other really big mega companies. Cindy's Throws, a small family owned business would not be what it is today without the American Dream.. We appreciate your business. My husband, Mark and I love what we do. We've got you covered!
Posted On 04/15/2014
---
Severe weather in Louisville, KY caused a significant disruption to operations at Worldport®, UPS's main hub in the United States. As a result, some shipments may experience unavoidable delays. UPS is working to move shipments to their final destinations as quickly as possible. You can track shipment progress on ups.com. The UPS Service Guarantee does not apply when transportation networks are disrupted due to conditions beyond UPS's control.
Posted On 04/04/2014
---
It's Official, Cindy with Cindy's Throws will make 3 National TV Appearances to share the story of Cindy's Throws Exclusive throw "For Such a Time as This" The written word John 3:16-18 on the cross.
May 19th Greenvill SC - Nitelite / May 20th Atlanta Georgia - WATC TV / May 21st Augusta SC - Club36
Only God could put this together. It is Powerful and Un-believable. Cindy is so Excited beyond words: God You are So Faithful Cindy gets to talk about "The Love of Jesus" to millions of people. WoW. Some of you might remember hearing about a woman and man who walked a 75 pound wooden cross across America in the late 80's and earlier 90's. It took them 8 years. Those two people are Dorothy and Russell Spaulding of Watchmen Broadcasting. Dorothy is the owner of the 3 TV stations. Cindy sent the throw to Dorothy at Club 36 with the story and God opened all 3 doors. Cindy gives HIM ALL the Praise and the Glory.. The Love of Jesus Rocks her world.
Posted On 03/31/2014
---
DELAYS with deliveries due to weather! UPS, FedEx and United States Postal Service is closely monitoring the impact of snow, ice, and freezing rain, causing service delays in the Southwest, Southeast, and Mid-Atlantic regions of the United States. Impacted states include Texas, Oklahoma, Arkansas, Tennessee, Kentucky, Maryland, Delaware, Virginia, West Virginia, and Washington, DC.
Posted On 03/03/2014
---
Cindy's Throws is excited to announce a NEW and Exclusive Design in celebration of 23 years of business. Titled: "Such a Time as This John 3:16-18." Cindy decided to design a throw from a drawing that was given to her by a friend. She gives God the Glory for He owns Cindy's Throws and has given her the honor to steward His business. The throw speaks for it self and carries a beautiful story. If you wish to know the story behind the design please send us an email. Cotton throw blankets are 100% cotton made in the USA. Make it even more personal by having the throw personalized with a loved ones name or yours!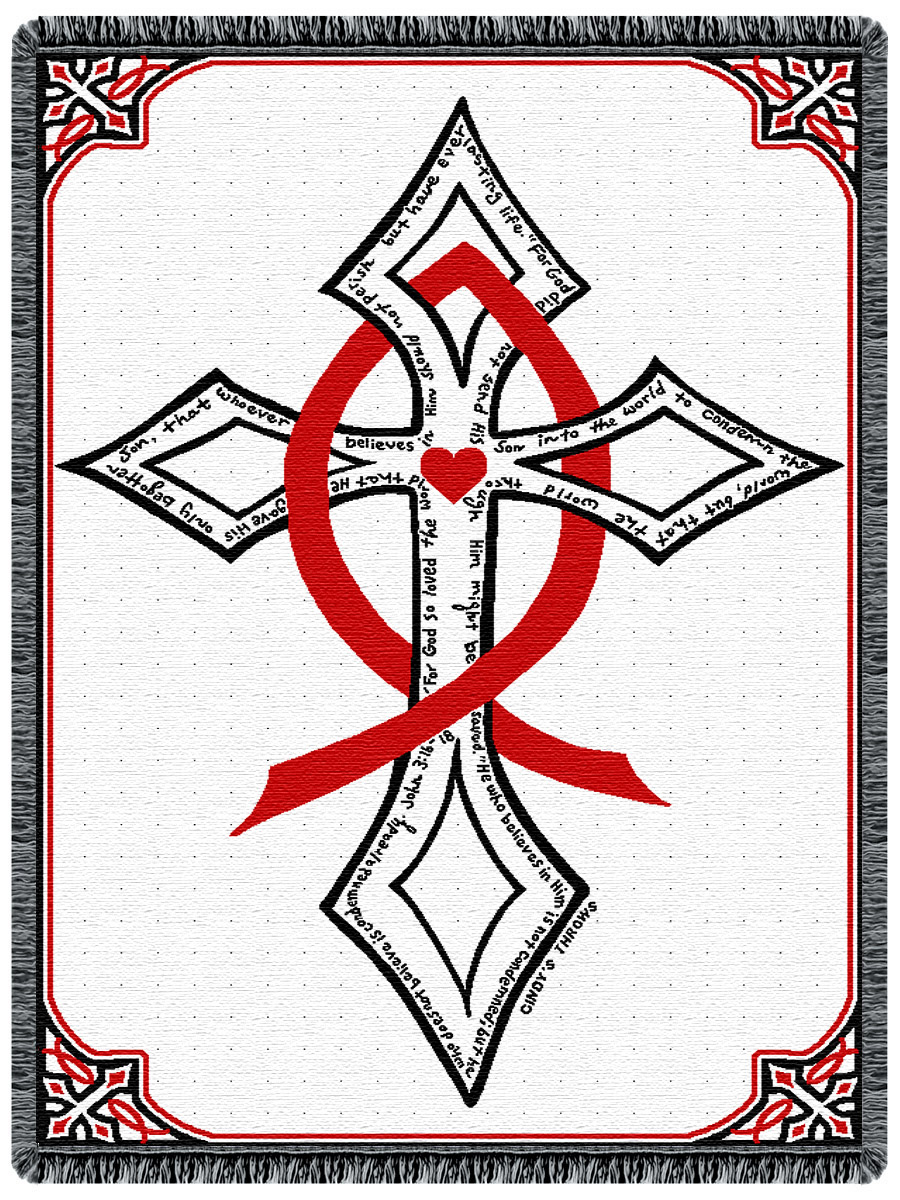 Posted On 02/28/2014
---
Delay with deliveries: UPS, FedEx and Postal are being impacted by the major winter storm that is bringing snow, freezing rain and sleet to the southeastern U.S. including areas of Georgia, Mississippi, North Carolina and South Carolina. While contingency plans in place to ensure the safety of employees and to minimize the weather's impact on transportation vehicles, planes and deliveries, you can expect service delays due to this winter weather.
Posted On 02/12/2014
---
The HOT Spring Product are the CLIMAWEAVE Pillows. CLIMAWEAVE is a new collection of indoor / outdoor pillows constructed to withstand the elements of time. Decorative pillows are made in the USA. Throw pillows are beautifully designed and brightly colored for your patio or garden. CLIMAWEAVE pillows are beautifully designed and brightly colored for your patio or garden. Pillows are filled with recycled poly fiberfill. The fabric is designed to be weather resistant, resisting moisture and fading for many seasons of enjoyment.
Posted On 02/05/2014
---
Back | Next