NEW Coming Soon Sally's Garden Throws
---
Posted On 09/19/2015
New Coming Soon! October 4th, 2015 Cindy's Throws is honored to Introduce artist Sally Ayers and her beautiful line "Sally's Garden Throws" exclusively at Cindy's Throws. Sally's Garden Throws are the benefit of Sally Ayers' watercolor paintings. Sally is inspired by the bright colors and activity of the garden. She and her husband, Jerry, have their lovely gardens at their central Ohio home.Images of her paintings are now woven into comfortable versatile pieces of usable art for your enjoyment. Bring beauty to a room by using a Sally's Garden throw as a wall tapestry. Afghans are 100% cotton made in the USA. Tapestries are machine washable & tumble dry.
NEW Butterfly in Flight Tapestry Throw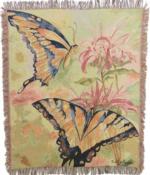 Keywords:
Product News "Sally's Garden Throws" exclusively at Cindy's Throws.
,... [
+
]
Recent Blog Entries
Personalization » - Dear Customers, Due to the high cost of shipping Cindy's Throws has decided to no longer offer the service of personalization / embroidery. May we suggest that you shop for an embroidery business in your area on the web or your local yellow pa ...
«1# Seller I AM Throw Blanket - The I AM blanket is Cindy's Throws #1 Seller, throughout the bible God has been called by many names. This throw highlights the different names of God and their meaning. I AM throws are 100% cotton, made in the USA. Wrapping yourself in the &ldqu ...