NEW Christmas Sherpa Fleece Blankets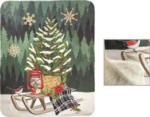 Decorating for the holidays can be fun with throws and blankets that are super soft, made of a high quality and very vibrant in color. Give a Christmas gift to warm one's heart and soul. Sherpa blankets are machine washable and tumble dry. Sherpa fleece is a type of fabric made from polyester. It is a variant of stretch knit polyester fleece fabric. It has two distinct sides; one has a smooth knit side, and the other side has a texture intended to imitate the look and feel of a real sheep's fleece.
---
There are no products in this category at the moment. Please check back soon as we are adding products everyday!