NEW Wildlife Designs by Artist Abraham Hunter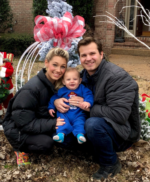 NEW Wildlife Designs by © Artist Abraham Hunter. He started painting when he was 12 with a watercolor paint set from Walmart. To help with family finances, he began to sell his art for $20 dollars apiece, going door to door where local restaurants and gift shops became my first "galleries." Abraham Hunter juggled high school and work, entering as many contests as he could in order to get his art out there. Abraham and his wife Whitney, and their son live in Knoxville, Tennessee where they work, raise a family, and explore the mountains around them, with visits to the beach as often as they can. An award-winning artist with a Federal Jr. Duck Stamp win, and multiple wildlife conservation groups' Art Print of the Year designations, young Abraham has a brilliant career ahead of him. If his art can give someone peace, happiness, make them feel home and put a smile on their face, then his life's work at my easel is worth it!
Designer throw blankets of wolves, black bear, moose andbull elk with matching tapestry wall hangings are 100% cotton, weaved in the USA. Each tapestry featuring wildlife are washable and tumble dry. Every coverlet and afghan make unique gifts.
---