MARCI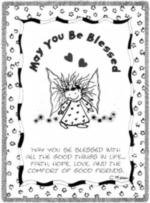 NEW Marci Throw Blankets: Marci is a nationally known artist whose work is known as "Children of the Inner Light ®" Her special characters and writing are about relationships-- our relationship to each other in the world and our deep connections to each other as human beings. created these wonderful characters as a reflection of the inner spirit-the joyous essence of each human being. The connection is universal. Children know, and adults remember that the fun, the love and bonds we make are as everlasting as the spirit. Find yourself, your children and your friends among these playful characters and enjoy wrapping yourself in warmth and giving them as gifts. Marci's throws of inspiration are 100% cotton made in the USA. All throws are machine washable and tumble dry. Each blanket is a blessing!
What started out as doodles and sentiments that Marci designed for her family, soon caught the eyes and the hearts of everyone who saw them. She named her unique black and white designs, and concept Children of the Inner Light® and began selling them from a cart in a local mall. It was the beginning of a phenomenal success story. Children of the Inner Light came to me "all at once" in a single inspiration! I was just as surprised as anyone to see these delightful characters flow from my pen! I took one look at their wild hair and crooked sweet smiles and knew that I had a job to do.
The response from the start was overwhelming! People chuckled when they saw my delightful characters and cried when they read the cards. People hugged me right in the mall and thanked me for giving them the words to tell their loved ones that they are truly loved. They also thanked me for this work that reminded them that their relationships would bring them their greatest joys. My work is all about our relationships with family, friends, and God.
My work is the result of prayer. I was at a point in my life where I really wanted to give something back....to share with others....and it was during this time of reflection, that I was given this gift. The characters came to me, and I wrote the greeting cards to be very personal. I think that is why people love my writing. The writing is real, meaning that I really wrote the cards to the people in my life, the people that are so important to me.
What I found when I took my work out to the public, is that we all really want the same thing...and that is to be able to have the words to tell our loved ones how we feel. My words are simple and authentic and say "I love you" what else is there really?!
I would have to say that I attribute my success to God. I have overcome many obstacles to get to this point, and prayer is as important to me as breathing. I believe that my work fulfills my calling. It moves people 'in spirit", and reminds us that we have a soul, "created in the image and likeness of God". I believe that if we remember that we are much more than just the physical, we will have a greater chance of moving toward peace...in our homes, schools, and the world. Children of the Inner Light is black and white...all color, no color.... for an important reason. The color we are on the outside, and our physical appearance are not really important, because true beauty and goodness comes from within.
"Let your adornment be the inner self with the lasting beauty of a gentle and quiet spirit, which is very precious in God's sight"--1 Peter 3:4
---
MARCI