NFL Denali Sports Blankets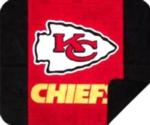 Cindy's Throws now offers premium, luxury, Denali NFL Sports Blankets. It's all about representing your squad with pride and showing your colors. Make your gameday be a little warmer by being wrapped in a Denali ® NFL throw blanket. Denali celebrates over 20 years in business that produces the highest quality American-Made blankets and throws. Denali is recognized for its plush feel and luxurious appearance. These football blankets are known for their astonishing comfort, bringing a level of warmth and softness to the touch. Denali throw blankets are made with Microplush, a hi-tech pile fabric knitted with a very fine denier acrylic fiber making it light, soft and comfortable. Denali throws are fondly mentioned as the Rolls-Royce of throw blankets!
Proudly made in the USA, Denali fabric is made in Janesville, Wisconsin and are hand-sewn in the USA. Sewn with the highest quality materials, taking great pride in workmanship and doing all the little things by hand that makes a big difference. Denali's throw blankets are machine washable & tumble dry. An American classic made in the USA. All patterns come in a larger size.
If you wish to purchase a bigger size 60" x 72" for $135.00, 60" x 84" $155.00, just email us at Cindy's Throws cthrows@cindysthrows.com or give us a call 406-370-0578. We can up-load the larger size for you to place your order. ~ Thank You, Cindy ~
---