Denali Plaids Comfort MicroPlush ® Throw Blankets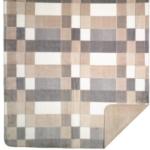 Denali ® Plaid throw blankets by Monterey Mills celebrates over 20 years in business that produces the highest quality American-Made blankets and throws. Denali is recognized for its plush feel and luxurious appearance. These blankets are known for their astonishing comfort, bringing a level of warmth and softness to the touch. Denali throw blankets are made with Microplush, a hi-tech pile fabric knitted with a very fine denier acrylic fiber making it light, soft and comfortable. Denali throws are fondly mentioned as the Cadillac of throw blankets!
Proudly made in the USA, Denali fabric is made in Janesville, Wisconsin and are hand-sewn in the USA. Sewn with the highest quality materials, taking great pride in workmanship and doing all the little things by hand that makes a big difference. Denali's throw blankets are machine washable & tumble dry. An American classic made in the USA. All patterns come in a larger size.
If you wish to purchase a bigger size 60" x 72" for $125.00, just email us at Cindy's Throws cthrows@cindysthrows.com or give us a call 406-370-0578. We can up-load the larger size for you to place an order. ~ Thank You, Cindy ~
---
Denali Plaids Comfort MicroPlush ® Throw Blankets