Snow Skiing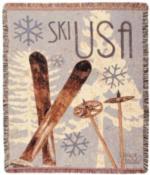 Cindy's Throws has you covered with ALL the sports. A great selection or sport blankets for every season. Like baseball, basketball, billiards, bingo, cheerleading, golf, gymnastics, hockey, horse racing, lacrosse, soccer, softball, swimming, tennis, track, volleyball, snowskiing, and more. Tapestry throws are 100% cotton, made in the USA. Throw blankets are machine washable and tumble dry. Coverlets can be personalized.
---
Snow Skiing
Item No: 3646-T
Type: 2.5 Layer
Size: 54" X 70"
Price: $55.00
This item is out of stock. Please allow 2 to 3 weeks for delivery.
Ski Quebec this nostalgic reproduction of a vintage ski poster will add a touch of whimsy to any room. Snow skiing furniture throws are made in the USA. Blankets can be personalized. Tapestries of a snow skier are machine washable & tumble dry.