SALE Sally Garden's Tapestries & Totes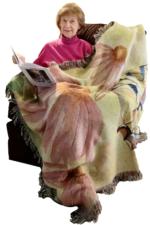 SALE due to Sally's husband, Jerry and his health, the dynamic duo have decided to sell out Sally's Garden inventory at greatly reduced prices. Limited inventory first come first serve bases. Cindy's Throws has been blessed by Sally Ayers and her beautiful line" Sally's Garden Throws & Totes". Sally's Garden designs are the benefit of Sally Ayers' watercolor paintings. Sally is inspired by the bright colors and activity of the garden. She and her husband, Jerry, have their lovely gardens at their central Ohio home. Images of her paintings are now woven into comfortable versatile pieces of usable art for your enjoyment. A throw is exactly what it says it is. You throw it across your shoulders or legs on a cool night. You throw it on a dull colored sofa or chair to brighten it up. A throw will bring color and warmth into a room. You can throw it in the car for a short or long trip for comfort. Bring beauty to a room by using a Sally's Garden throw as a wall tapestry. Sally's Garden throws are 100% cotton made in the USA, crafted in the Blue Ridge Mountains. These Jacquard woven throw blankets and totes reflect the finest quality made with American pride.
---
There are no products in this category at the moment. Please check back soon as we are adding products everyday!