Throws Make Unique Decorative Curtains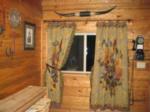 Have you ever thought of using throws for window covering? Here's a great way to decorate any room by using 100% cotton woven throws for window covering, drapes or unique curtains. Create your own decorative curtain for a room with its own theme. The ideas are endless here at Cindy's Throws. Decorative throws are machine washable and tumble dry. Throw blankets vary in size. Decorative rods with clips are available. We've got you covered here at CindysThrows.com. Here are just a few ideas!
---
There are no products in this category at the moment. Please check back soon as we are adding products everyday!