Sally's Garden Totes & Pillows By Artist Sally Ayers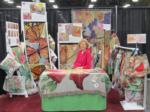 Cindy's Throws is honored to Introduce Artist Sally Ayers and her beautiful line" Sally's Garden Throws" exclusively at Cindy's Throws. Sally's Garden Throws are the benefit of Sally Ayers' watercolor paintings. Sally is inspired by the bright colors and activity of the garden. She and her husband, Jerry, have their lovely gardens at their central Ohio home. Images of her paintings are now made into comfortable versatile pieces such as throws and throw pillows of usable art for your enjoyment, along with stunning tote bags. All made in the USA. Totes and pillows have design on front and back. Each tapestry or printed pillow features beautiful colors to brighten one's couch or patio furniture. Add a little flair to your daily shopping or errands by using a printed or tapestry tote bag for your personal belongings. Any tote or pillow would make a wonderful and unique gift.
---
There are no products in this category at the moment. Please check back soon as we are adding products everyday!