About Us
---
Introduction
Welcome! Cindy's Throws has an updated website. The new layout will simplify and enhance your shopping experience. Items are easier to find, images are sharper, and the information is more concise. We strive to make doing business with us easy. Processing your order is a snap!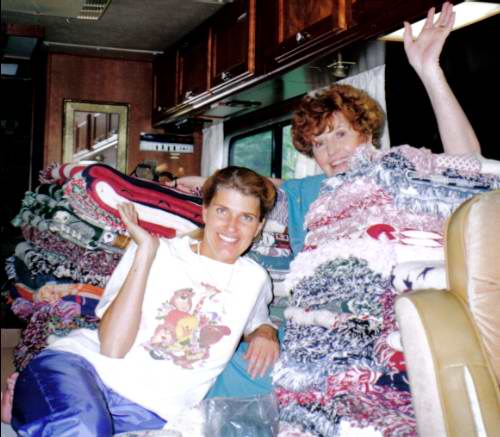 Cindy's Throws began in 1991 as an answer to prayer. While Cindy visited her mother in North Carolina, God responded with a vision for a family-owned business. Inspired by this vision and the hope of a much-needed source of income, Cindy and her mother explored various weavers, which ended with Cindy's mother loaning her one-thousand dollars to start Cindy's Throws.
Laden with suitcases and boxes overflowing with cotton throws, Cindy returned to California and launched Cindy's Throws as a home-based business. Thanks to family members and friends who hosted "Throw Parties," the concept was wildly successful. In just two years, Cindy was able to open a retail shop in downtown Ventura, California, selling throws and accessories from a variety of U.S. Weavers.
Cindy's Throws prospered. In 1996, the Pasadena Tournament of Roses selected Cindy's Throws for the official Rose Bowl Stadium Throw. Cindy's Throws designed a special stadium throw, featuring the playing teams' names and the year. During the four-day Family Festival Event, Cindy and her husband, Mark, sold Tournament of Roses throw-jackets and other licensed souvenirs outside the stadium. They continued as a licensee for the Pasadena Tournament of Roses through 1998.
In November, 2000, after six months of design and development, Cindy's Throws launched its first website. The transition to an Internet business allowed Cindy and Mark to close their Ventura location and pursue a life-long dream of living on a ranch in Montana.
Today, Cindy, and her family are living their American Dream in Thompson Falls, a tiny town in Western Montana. Here, Cindy's Throws maintains an office and a warehouse on their 42-acre ranch. Cindy's oldest son, Davey, graduated from Wake Forest University School of Law in North Carolina, and is working in San Diego, California as a Real-Estate Attorney. Noah her middle son is attending LeTourneau University, in Longview Texas studding to be a commercial pilot, and daughter Jessica will be a senior this fall at Thompson Falls High School.
The couple enjoys living, working, and raising their children in this close-knit community. Riding horses and caring for their many farm animals is a continuous "Big Sky" adventure. While the Bronner's ranch is their sanctuary, it also serves as an extension of their local church. Mark and Cindy serve in the music and youth ministries. The couple has hosted countless youth camps, women's retreats and church picnics on the ranch.
What made Cindy's Throws so successful? Without apology or hesitation, Cindy gives God the glory! Through 23 fabulous years, since the humble launch of Cindy's Throws with a thousand borrowed dollars, God has guided her day-to-day walk. God brought Cindy's American Dream to fruition - as if to underline her favorite scripture:
Philippians 4:13 - I can do all things through Christ who strengthens me.

Acknowledgements
In 2005 Cindy decided the website needed a facelift. Cindy is so ever grateful to Dave Cordes of Apok Technology, a master Web developer, referred to as "The Man" behind this website.
Candy Reedy, in Thompson Falls, was hired due to her extensive experience working for Fortune 500 companies. As an added blessing, Cindy and Candy formed a close friendship.
Our goal is to provide excellence in our product and service. We recognize that customer satisfaction is the key to success. Thank you for visiting Cindy's Throws' website! We welcome your feedback and might just publish your words on our website. Please email your thoughts to cthrows@cindysthrows.com.
Mission Statement
We build Cindy's Throws one customer at a time. How? By providing excellent service and the best quality of throws made in the USA. Acknowledging the customer and listening, understanding their needs and meeting them in a timely manner. Communicating clearly and answering all their questions. Here at Cindy's Throws we care and value our customers, they are Cindy's Fans and we would like to make Cindy's Throws your Fan!